January 2022 Volume 6 Issue 7
---
Carbon Offset Miracle Math + More Tools for Rotarians
Friday, January 14, 2022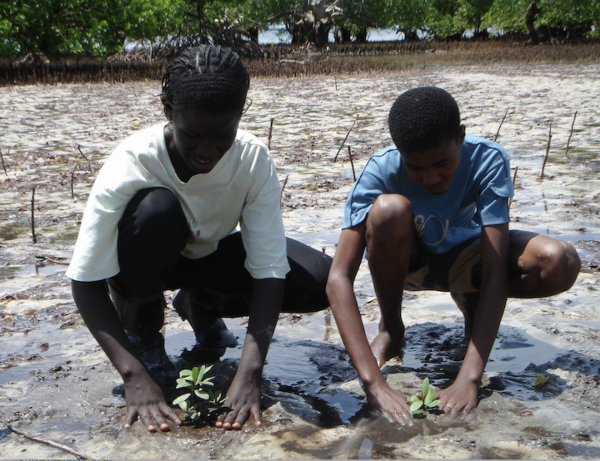 Post COP-26, there's plenty Rotarians can do to advance climate solutions:
Invest and leverage! Discover how to use carbon offsets to fund mangroves AND community-led economic development.
Map the big picture. Log onto the Jan. 20 RCAT webinar "Getting to Net Zero" and read the Inverse article on how COP 26 actually made some progress.
Empower Rotarians! ESRAG Oceania's new Ambassadors are ready to inspire and equip the region's clubs.
Share knowledge. ESRAG Director Joey O'Brien speaks Jan. 19 on geothermal energy; plus, an invitation to tell fellow Rotarians about your club's environmental work.
Network without jet fuel guilt at ESRAG's virtual reality House of Friendship.
Finally, since you're People of Action: a billboard revealing a Mighty Act Within Your Power.
Happy new year!

Photo: Children in Gazi Bay, Kenya, learning to protect their coastal ecology, through the mangrove and seagrass protection project which also generates revenue for their school. Credit: Mikoko Pamoja in Kenya and the Association for Coastal Ecosystems Services (ACES) in Scotland.
---
Blue Carbon + Community Development: a Tested Toolkit for Rotarians
By Ariel Miller
on Tuesday, January 11, 2022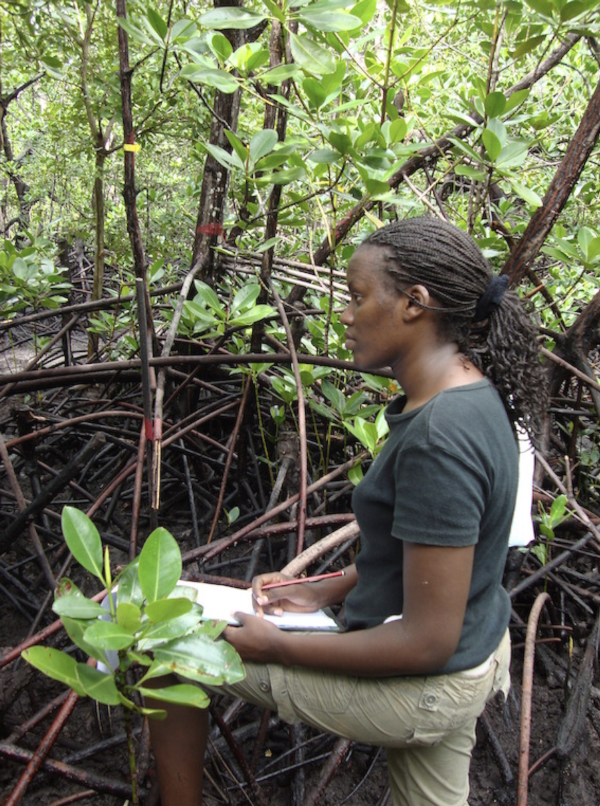 Rotarians eager to support "blue carbon" initiatives can study the success of the award-winning Mikoko Pamoja mangrove project in Kenya and consult an excellent free manual provided by the Scottish nonprofit ACES (Association for Coastal Ecosystem Services). We're sharing this resource thanks to ESRAG's Great Britain and Ireland (GBI) Chapter and British Rotarian Paul Keeley, one of ESRAG's leading advocates for African reforestation projects. It's especially timely because Rotary International President Shekhar Mehta used his roundtable at the UN Climate Conference in Glasgow to challenge Rotarians to sponsor mangrove projects across the Commonwealth.
Mikoko Pamoja, which means "Mangroves Together" in Kiswahili, is the world's first mangrove and seagrass conservation project financed by the sale of carbon credits. 30% of the carbon offset revenue goes into projects chosen and managed by the community, who have used the funds to repair and equip schools and health care facilities, and to provide safe water to 4,500 residents across three villages. Thus – deliciously for Rotarians – this strategy combines a powerful climate change solution with economic development for coastal communities.

By adding seagrass to the original mangrove focus, the project has pioneered the strategy of protecting more than one element of coastal ecology under one carbon offset certification. "This may increase the level of time, resources, skills and equipment required for the project," says the manual. "However, doing so could create a more robust project with greater capacity for income from carbon credits or other sources of funding. Coastal and marine ecosystems are closely linked and a joined-up approach to their conservation will bring more environmental benefits than conserving one alone."
Read More
---
Getting to Net Zero: RCAT Webinar Jan. 20, 4 pm Pacific Time (UTC-8)
Thursday, January 13, 2022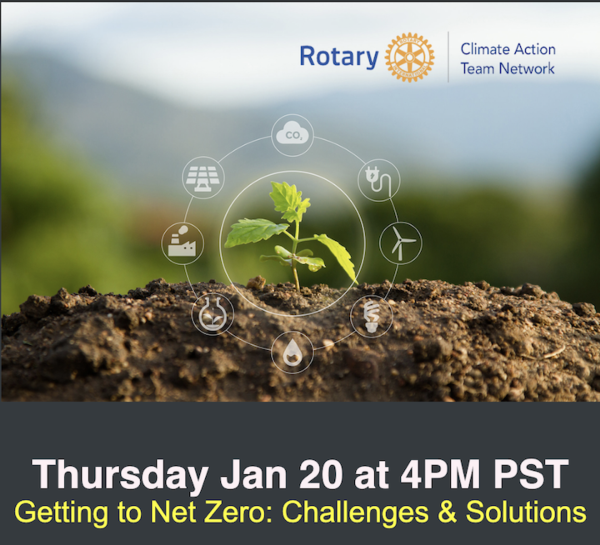 Leaders all over the world are embracing the goal of "net-zero emissions by 2050. For this Jan. 20 webinar (midnight UTC, 4 pm Pacific Time) Dr. Karl Hauser, Senior Fellow for the World Resources Institute's Climate Program, will explore questions under vigorous debate:
Can renewables supply 100% of all energy?

What role should nuclear plants – existing or new – play in a net-zero economy?

How about carbon capture and storage: in the power sector? Reducing industrial emissions? In negative emission technologies?

How fast should the world aim to transition to a net-zero economy, and what are the policy levers?

What roles should states, cities, and companies play in achieving a net-zero economy?
Sign up for this Rotary Climate Action Team (RCAT) Zoom webinar here.

Analysis and modeling of pathways to net-zero can help answer these questions, but everyone in the climate/energy policy community should understand how assumptions regarding the availability, performance, and integration of various technologies shape the answers and drive policy choices and priorities for research and development.
Karl Hauser, PhD leads WRI's analysis and modeling of climate mitigation and net-zero pathway, electricity market design, and the social cost of carbon. He led the Risky Business study of clean energy pathways for the U.S. and has worked for more than three decades in the fields climate change, energy, and environment in government, research institutions, and NGOs, including the U.S. Environmental Protection Agency, USAID, and as chief economist for the U.S. Senate Committee on Energy and Natural Resources. He has worked on an array of issues including electricity restructuring, CAFE standards, alternative fuels, water policy, nuclear power, and energy security. He holds a PhD in public policy from the University of California at Berkeley.
---
Geothermal Energy Jan. 19 and Other Upcoming Biodiversity + Seminars
By Christopher Puttock
on Friday, January 14, 2022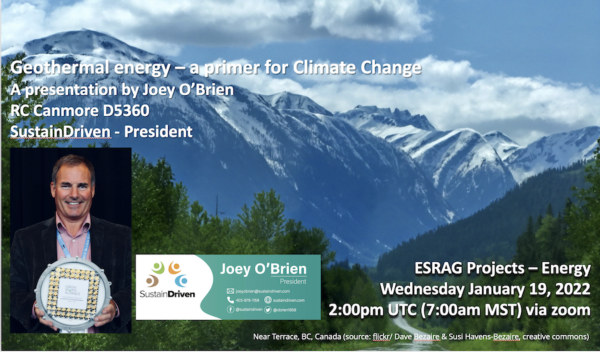 The next Biodiversity + presentation, January 19 at 2 pm UTC (7 am MST) will first focus on climate change, offering several easy-to-understand talking points identifying the science. The next section will describe various types of low-carbon energy sources and their economic modeling. The final section will offer examples of club and district projects that can be replicated. Register here and click "Read More" below to learn more about Joey's work and upcoming Biodiversity + topics.
Canadian Rotarian Joey O'Brien, a member of ESRAG's Board, is the president of SustainDriven, an innovative provider of environmental consulting and event operations that executes sustainable water, waste, global greenhouse gas and energy solutions – including for huge sporting events like the Alberta Winter Games and the Banff Marathon. In 2018 the carbon-neutral Banff Marathon, with 10,000 participants - set an industry record by diverting 100% of its waste from the landfill.
Read More
---
By Ariel Miller
on Tuesday, January 11, 2022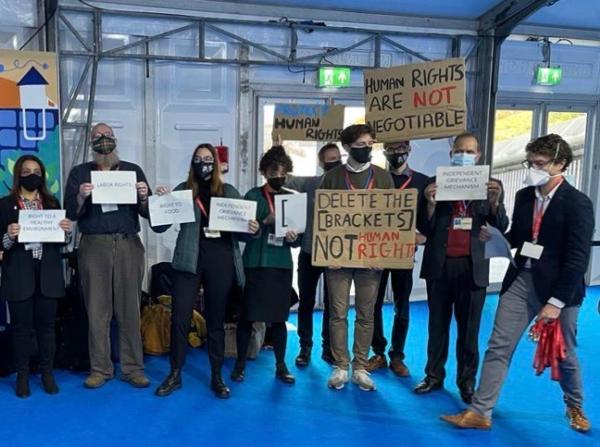 An ESRAG WhatsApp group has been vigorously discussing the Glasgow Climate Conference, including a link to this Inverse article "COP26: 11 Decisions that Could Actually Reverse the Climate Crisis." The top five, in the Inverse writer's view, are:
Fossil fuels are explicitly listed as a cause of climate change for the first time in a final UN climate agreement document.

77 nations agreed to phase out coal: wealthier countries by the 2030's and developing nations by the 2040s. However, the US, China, Australia and India did not sign this agreement.

China and the US issued a joint "Glasgow Declaration" in which the US promised to end carbon-emitting electricity by 2035 and China committed for the first time to tackle methane emissions and "phase down" coal consumption.

More than 100 countries – 70% of the global economy - signed the non-binding Global Methane Pledge launched by the US and European Union to reduce methane emissions by 30% by 2030.

The US pledged to quadruple funding by 2024 to help developing nations transition to clean energy and build resilience to climate change. This includes some funding for climate-smart agriculture in sub-Saharan Africa and South Asia, and to preserve global forests.
ESRAG's Great Britain and Ireland chapter posted the Inverse article in its Dec. 9 Advent Calendar post, asking members "How would you rank these gains and what is missing?" British Rotarian Paul Keeley, Managing Director of Sustainable Global Gardens, offered an inspiring AND practical response through the Dec. 24 ESRAG GBI Advent Calendar: invest in blue carbon projects led by and directly benefiting coastal communities by sharing revenue from carbon offset credits. Read about this strategy in our story on the success of the Mikoko Pamoja mangrove project on the coast of Kenya.

Photo: activists at COP 26, photographed by ESRAG Director Larry Hands
---
ESRAG Environmental Ambassadors Training Course
By Patricia Armstrong
on Thursday, January 13, 2022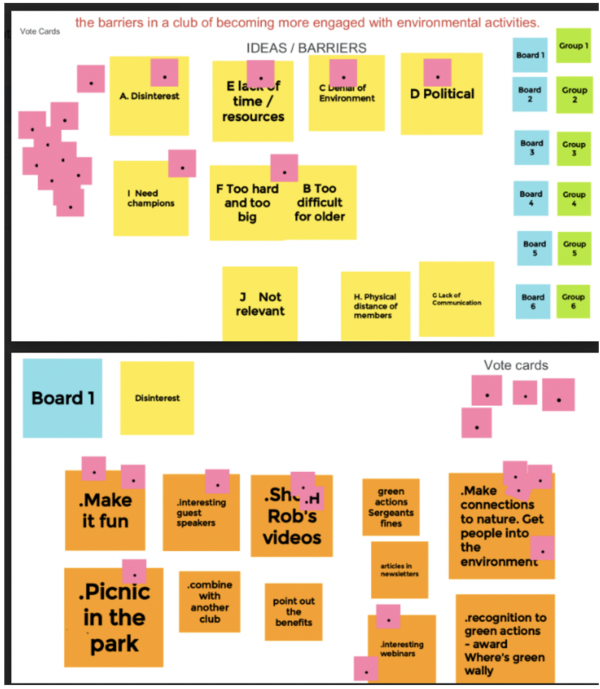 Early in 2021, a team of educators from Australia came up with the idea of providing a training course for ESRAG members to prepare them to go out into their clubs, districts and communities to promote greater involvement in environmental projects. After consultation with Zone 8 advisors and DGs, followed by a focus group, the team set to work to design, promote and deliver a pilot course to a bunch of passionate Rotarians and Rotaractors across Australia and New Zealand. The course has now been delivered to a class of 29 participants, who, on average, rated the course very highly.
Read More
---
Explore the Rotary World at ESRAG's VR House of Friendship: No Need to Get on a Plane!
By Klas Holmlund
on Friday, January 14, 2022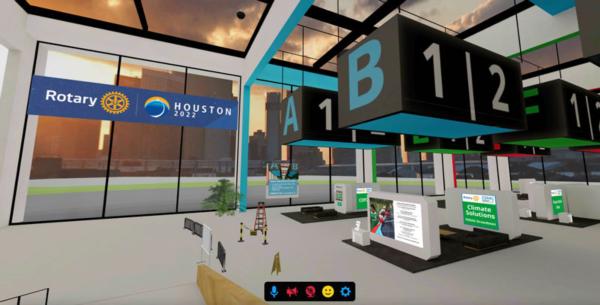 Last year, at the 2021 RICON in Taipei, ESRAG opened the door for the very first truly virtual House of Friendship.
This year, it's coming back, bigger, better and with even more exciting content. Walk the halls and visit the booths and you'll be able to meet and interact with virtual Rotarians from around the world just as you would at the 2022 RICON in Houston - but you won't be getting on a flight to do it.
Stay posted this spring for seminars and how-to's on how to experience the Metaverse House of Friendship through a computer, a phone or a tablet, or better yet, using a VR headset. This year, don't fly. Go Metaverse. Take a peek at ESRAG's 2021 VR Exhibit here while we're working on the new one. Just click on the green sign for each booth to enter and explore.
---
Showcase your Project in ESRAG's Seminar Series
By Christopher Puttock
on Sunday, December 5, 2021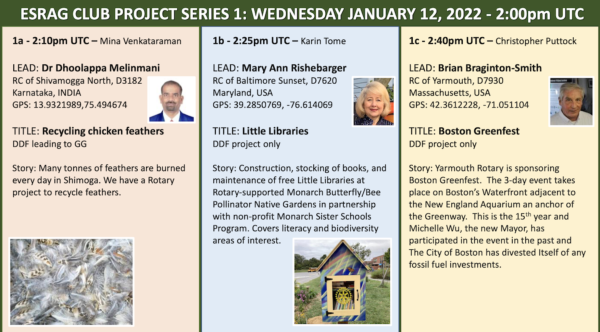 ESRAG's weekly Biodiversity+ Zoom seminars connect Rotarians around the world to share information about environmental issues and effective solutions. In 2022, we're starting a new strategy: alternating expert talks with presentations on club projects. We welcome your recommendations of speakers for both formats:
Biweekly seminar: a 30-minute talk by an expert on an environmental issue with solutions that Rotary or Rotaract clubs can implement. The seminar includes time for questions and discussion.

Panel of three presenters giving "lightning" talks on one of their club's environmental projects.
The project meetings provide club leaders with the opportunity to talk about club projects at any stage, from community assessment, to finding partners and finance, to implementation and evaluation. The project talks must be led by the home club champion who is/will be running the project in-country. International partners can be part of the presentation, but not the lead. In the project meetings, each project will have 15 minutes: 5 for the lightning project overview and 10 for discussion and brainstorming how the project could be connected to a cadre meeting for follow-up and replication.
To propose speakers for either format – seminar or project showcase – or to volunteer for the Biodiversity+ organizing team, email Brian Braginton-Smith or Karen Tome.
---
By Ariel Miller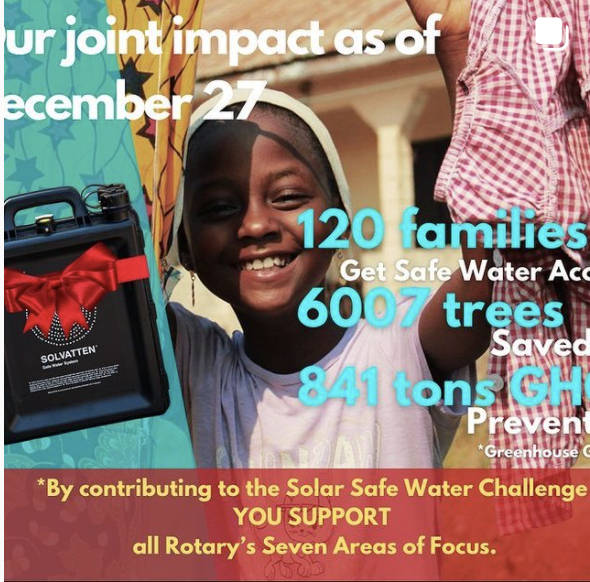 We are eager to share your great projects with Rotarians worldwide who are dedicated to saving life on our planet. Through this newsletter, ESRAG's social media accounts, and the website we can post events (please give us at least two weeks notice) as well as articles explaining what you do, how you do it, and links to further resources.

It's easy to connect by email. You can send what you've already written or ask to set up an interview. Looking forward to hearing from you!
---
Friday, January 14, 2022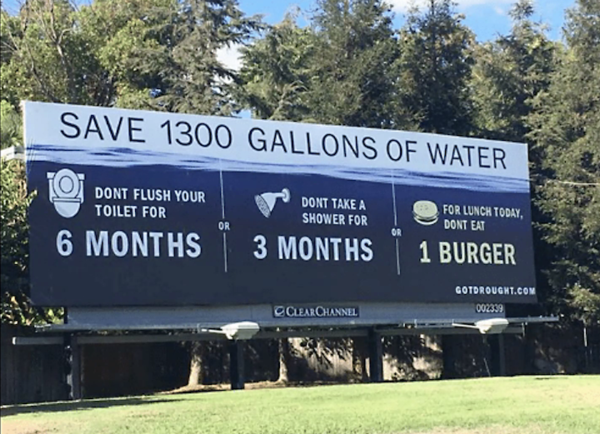 If you're feeling there's not much you can do for the planet on your own, try this at home!

(Shared by John Mathers, Rotary Climate Action Team Network and Rotary Club of San Francisco)
---
The Environmental Sustainability Rotary Action Group
operates in accordance with Rotary International policy,
but is not an agency of, or controlled by, Rotary International.
---