July 2022 Volume 7 Issue 1
---
Jennifer Jones and Fellow Rotarians Embrace Environmental Action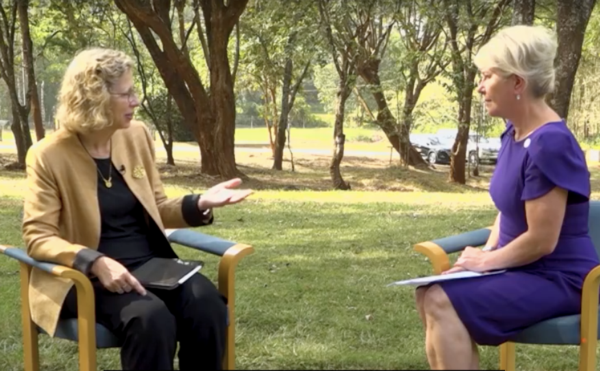 As RI President Jennifer Jones leads Rotary's official delegation to COP27 in Egypt, Rotarians are rapidly expanding their work and leading their communities in responsible stewardship of the planetary home on which we all depend. This issue reports on key ESRAG and Rotary initiatives:
ESRAG Chair Pat Armstrong announces ESRAG's Climate Action Policy

ESRAG's Europe Chapter's vital role in the Rotary Zone Institute in Basel Nov. 4-6

Nov. 14 ESRAG Plastic Solutions webinars and a great website with tools for Clubs

Jennifer Jones' Monarch Mondays interviews begin Nov. 14 on Rotary's Facebook!

The Assisi Climate Conference Nov. 26-27

ESRAG's new Carbon Flight Calculator to raise awareness and funds for Rotary global grants

Giving Tuesday Nov. 28

Sharing your News through ESRAG
Rotary International President Jennifer Jones is lifting up and celebrating environmental solutions in her public appearances around the globe. She began with the Pollinator Tour from Canada to Mexico just weeks after becoming President. This month is demonstrating Rotary's environmental commitments to the entire world at COP 27, and is promoting action in the most engaging way through her interviews with environmental advocates on Rotary social media, including the Monarch Mondays series beginning Nov. 14 on Facebook. RIP Jennifer interviewed Inger Andersen, Executive Director of the UN Environment Programme, at UNEP's headquarters in Nairobi, Kenya just before they both traveled to Sharm El-Sheikh for COP 27. (see photo from their conversation, above). Watch the interview on LinkedIn.
Our RI President is setting a fantastic example on how to inform, inspire, and engage those in our spheres of influence. ESRAG Chair Pat Armstrong and our other writers this month share a wealth of resources to encourage and equip you to do the same.
---
ESRAG's New Resources for Climate Action
B

y Patricia Armstrong, ESRAG Chair 2022-23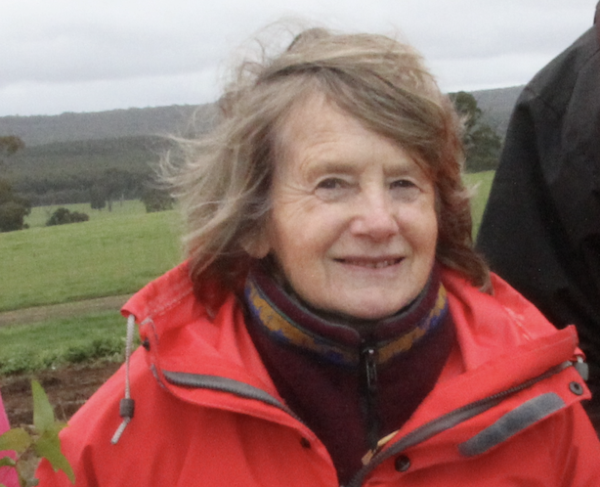 I'm sure that you are all following the proceedings at the 2022 United Nations Climate Change Conference, better known as COP27, currently taking place in Sharm El-Sheikh, Egypt. This is the ideal time to share ESRAG's just-published Policy Statement on Climate Action to encourage and equip you as the nations of the world struggle to achieve the necessary commitments to prevent catastrophe. "In our role as one of the planet's largest and most networked humanitarian organizations, we are perfectly positioned to tackle the climate crisis' huge humanitarian costs and to rally the people and resources needed to mitigate further destruction," we wrote. Click the "read more" button for details and additional tools.

As I mentioned in the October newsletter, Rotary is represented at the conference with a delegation including ESRAG Past Chair, Dr Christopher Puttock, RI President Jennifer Jones, Judith Diment (Dean of Rotary Representatives to the UN and other international agencies and Representative to the Commonwealth), Keith Madden (The Rotary Foundation Environment Area of Focus Manager) and PDG Mohamed Delawar. You can follow the COP27 blog on the ESRAG website here.
Read More
---
Not Alone with our Green Hearts in Rotary: News from the Basel Zone Institute
By Marielouise Slettenhaar-Ket,
ESRAG Europe Chapter Leadership Team
"At my Rotary club lately we had speakers from industry, telling us that human-caused climate change was not proven yet, and that we have plenty of time. At the Rotary Institute, however, I understood that climate change is very real and urgent, and the advanced solutions presented by other Rotarians inspired me to step up environmental projects in my club." - Antonio Rossi, RC Genova Centro Storico
In November, the Rotary world gathered for the Rotary Institute in Basel in the heart of Europe to focus on intercultural exchange, our commitment, and our future. Environmental sustainability was one of the four focus themes at this major international Rotary event.
28 great presenters covered ethics, water, plastic, climate and energy, biodiversity, and sustainable lifestyle in four breakout sessions. Very apparent in the room was the sense of urgency for this topic and the energy of the solutions that we discussed. We shared a compelling mix of alarming scientific data, but also scalable and broadly applicable solutions.
We still have about 2,500 days till 2030 and learned that although the climate crisis is a global crisis, 75% of the actions for lowering our emissions are within the power of municipal and regional sphere of influence. This is an ideal opportunity for Rotary clubs to engage and support our locally elected representatives! We learned many ways to reduce our personal footprint and how to make small steps that create a bigger impact, especially when we do it regularly with a bigger group. Click on READ MORE below for more about the topics shared and links to a wealth of useful information for your advocacy and projects.

Photo: ESRAG Director Ludwig Kalthoff, MD, introducing the environmental theme at Basel Institute
Read More
---
Webinar Nov. 14: Rotary's Role in Ending Plastic Waste
By Ariel Miller, ESRAG Newsletter Editor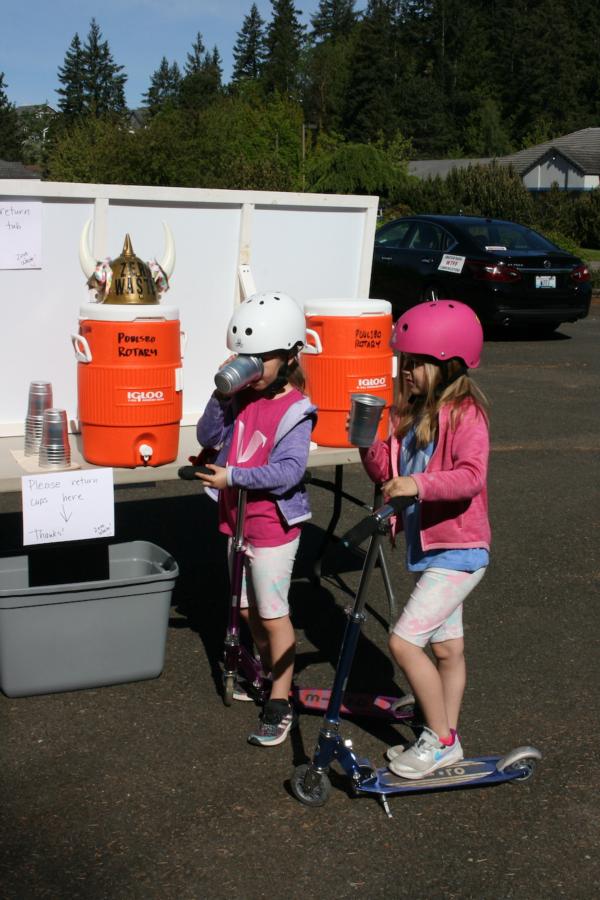 Discover how your club can convince your community that it's not only possible, but rewarding to do without single-use plastics. Rotarians Lori Cloutier and Franz Müller of ESRAG's Plastics Solutions Task Force explain how in a free webinar offered twice on Monday, Nov. 14 to accommodate schedules across the globe. Sign up for the earlier session here and the later session here. In addition, they have teamed up with Olderico Caviglia in curating a dynamic website to equip you.
Cloutier places her hopes on the affection and respect communities have for their local Rotarians. "Public awareness and information campaigns alone are not effective in fostering behavior change," she says, citing the research in Doug MacKenzie-Mohr's Fostering Sustainable Behavior. "Behavior change has more to do with the strong need people have to do what other people are doing, to 'be normal.'"
What has to become normal is giving up disposables. "The problem with single-use plastics is not the plastic, it's the single use," says Cloutier, referring to a UN Environment Programme life-cycle analysis comparing eight single-use plastic products - such as take-out food containers, diapers, and menstrual products - to reusable alternatives. The environmental harm caused by the life-cycle of single-use products is huge compared to reusables.
"Keeping products in the economy through reuse is the lowest impact," says the UN's Summary for Decision-Makers. "Recycling is not the answer," warns Cloutier. "Plastics can only be downcycled once or twice before they must be landfilled or incinerated. Only 5% of the plastics in the United States are currently recycled, down from 9% a few years ago."
Clubs can set a powerful example, for example, by making their big community events zero-waste. "Don't walk the talk quietly: do it in a big, public way," Cloutier urges. "Rotarians serve on boards and other leadership roles," so once Rotarians demonstrate zero-waste practices, other organizations will follow their example. If your club already has an effective project, please share it with Lori Cloutier. The Task Force is looking for Rotarians everywhere in the world to promote plastics solutions. ESRAG's Plastics Solutions blog shares news of replicable strategies, as well as quick summaries drawn from rigorous research on the global plastic pollution crisis.

Photo: For their Viking Tour Philanthropic Fundraiser, Poulsbo Rotary Club in Washington State replaced single-use cups with these washable aluminum ones.
Read More
---
Nov. 14: Jennifer Jones' Monarch Mondays Interviews Begin
By Laurie Zuckerman, ESRAG Communications Chair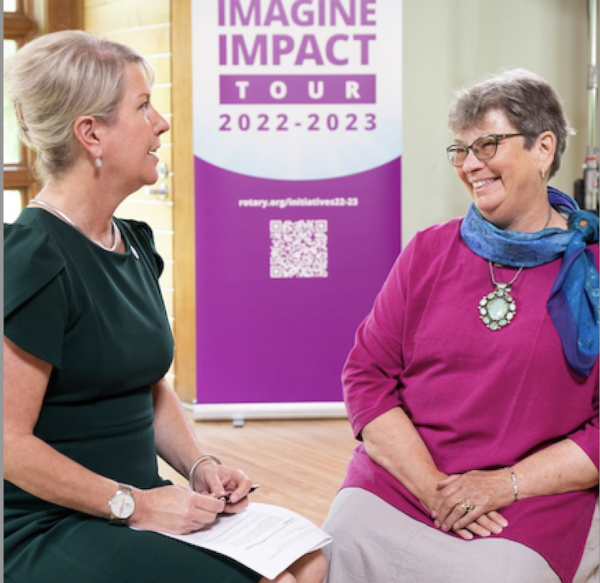 Pollinators are vital to human food security but their populations are dwindling. How can we help? Rotary President Jennifer Jones is interviewing conservationists, activists, and business leaders to discuss how Rotary members are taking action through education, advocacy, and partnerships. The four-part conversation begins Monday 14 November on Rotary's Facebook page and continues through Monday 5 December. The schedule includes:
14 November - Chris Stein and Ella Phillips discuss the issue of decline in pollinators/monarch population
21 November - Chris Stein and David Eaton discuss both Operation Pollination and the Tree Challenge
28 November - Patrick Ottensmeyer discusses the corporate angle and how corporations like Kansas City Southern Railway are addressing environmental issues
5 December - Karen Kendrick-Hands discusses Rotary's official involvement in protecting the environment and the importance of advocacy
While you are listening, please go to ESRAG's Operation Pollination and pledge to take action to save pollinators: Pollinator Pledge. Since most Rotary districts are already taking action to save pollinators, why not get credit for your good work? Forward this article to your District Governor and leaders, and ask them to sign the Pollinator Resolution.

Photo credit Rotary International: RI President Jennifer Jones interviewing Karen Kendrick-Hands, ESRAG's Partnership Envoy and Training Coordinator
---
Assisi Climate Action Forum Nov. 26-27
By John Mathers, Co-Chair, RCAT Network and PP Rotary Club of San Francisco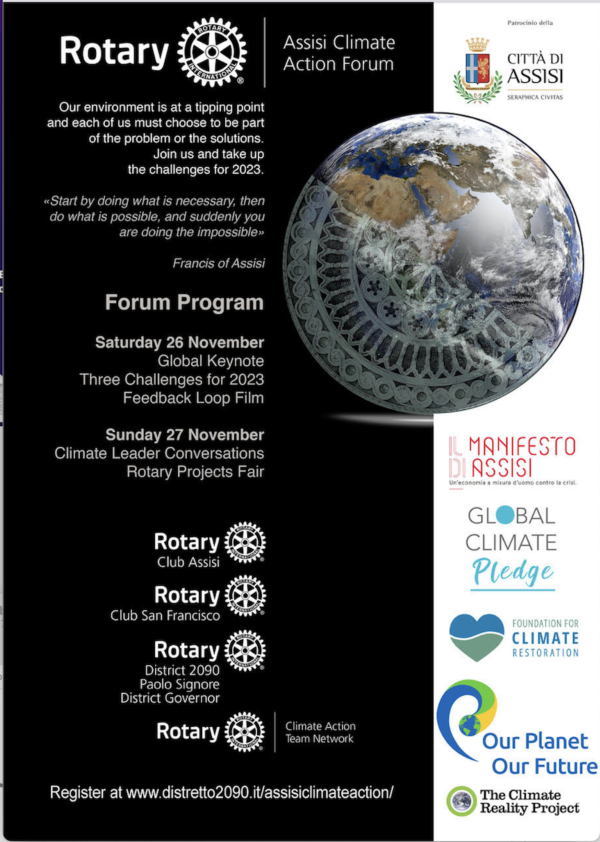 The Rotary Clubs of Assisi and San Francisco invite you and your Rotary Club to participate in our Global Climate Action Forum from Assisi, Italy on November 26-27, 2022.
Co-hosted by the Rotary Climate Action Team Network (RCAT) and major climate action organizations, the purpose of this global event – offered both virtually and in-person - is to challenge ourselves and our clubs to take climate action in 2023. Our natural world is under threat from drought, flooding, fire, ocean acidification, mega-storms and much more. St. Francis of Assisi, the first true environmentalist, calls on us to act: "Start by doing what is necessary, then do what is possible, and suddenly you are doing the impossible."
Over 900 Rotary clubs in 92 countries have already committed to act to address climate change. Rotary is used to taking on BIG challenges and now is the time for us to tackle this crisis! We are partnering with the Global Climate Pledge to get 2 billion individuals and 4,000 Rotary clubs to commit to act in the next 2.5 years. Saturday's program challenges you to three global action challenges for 2023: Commitment, Advocacy, and Action. Sunday includes a Rotary Italy Project Showcase demonstrating clubs taking effective action. Visit the conference website for the full program, speaker profiles, and resources.
At Saturday evening's webinar you'll hear from leaders of Our Planet Our Future (an outgrowth of the Vatican's efforts to collaborate with 40 different religions), the Foundation for Climate Restoration, Global Climate Pledge, the Climate Reality Project Europe, as well as the Assisi Manifesto. The Mayor of Assisi, President of Assisi's Rotary Club, and Governor of Rotary Distritto 2090 will also speak. The conference will challenge and connect you to practical answers to the questions: what concrete actions can my Club take? What can I do daily through my profession, my leadership, and my choices? How can I – and my Club – make a difference in this existential crisis?
Register here to participate in the Assisi Forum. The conference fee is E10. If you attend in person, meals will cost E25 each for dinner on November 26 and lunch on November 27. Participating hotels in Assisi are offering very reasonable rates. Follow the event on Facebook and share this video invitation with your club.
Thank you for participating in this very important global effort. We look forward to working with you and your members!
---
If you fly, fuel climate solutions!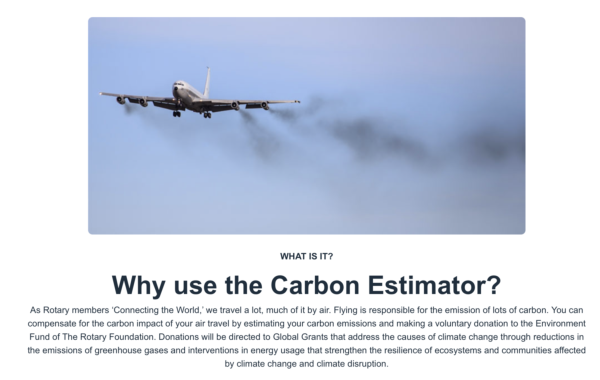 ESRAG's new Flight Carbon Estimator makes it simple for you to contribute to Rotary climate solutions every time you fly. Your donation goes into The Rotary Foundation's fund for environmental global grants to support Rotary projects that reduce carbon emissions. By doing this, you're increasing your awareness and turning it into action. Goal 4 of Rotary's environmental global grant guidelines lists an array of eligible carbon reduction projects including solar power, sustainable transportation systems and cleaner cookstoves.
This Raise for Rotary/Carbon Compensation Fund is the brainchild of past ESRAG director Larry Hands (Madison, WI, US) and Northfield, Minnesota Rotarians Bruce Morlan and Jesse Steed. Their initial goal is to raise $100,000, but the campaign will be perennial. "26,000 Rotarians travel every year to the Rotary International Convention," says Morlan. "At a contribution of even $100 per attendee, that could raise $2.6 million to put towards real programs to reduce emissions. Repeat annually!" These donations are fully tax-deductible for US taxpayers.
While the cost of offsetting the harm done by a tonne of CO2 is $200-$300, Morlan says, this compensation program is "a way for conscientious Rotarians who are concerned about the environment to contribute to action to reduce carbon emissions." He sees a great opportunity for Rotarians to spearhead projects in energy efficiency for low-cost housing. "Instead of giving tenants money for their unaffordable utility bills, it would be much better to help landlords replace windows, add insulation, or put in more efficient HVAC without having to raise the rent," he points out.
Morland is a mathematician and longtime conservative supporter of the Citizens Climate Lobby. He is a co-founder of the Rotary Climate Action Team (RCAT) network with Alan Anderson of the Northfield, MN Rotary Club. Steed, who joined the Northfield club five years ago, is a real estate broker who enjoys website design. He was recruited for the project by Morland to make sure that the online calculator and donation process was user-friendly.
To use the calculator, all you need to enter is the total duration of your air travel, the number of flight segments (since takeoff and landing add emissions), and the seat class. First class uses more space and accounts for a greater portion of the flight's emissions. The calculator offers two levels of donation: basic ($10 USD per tonne) and premium ($30 USD per tonne). "It's easy. It's there. Use it!" says Steed.
---
Donate to ESRAG on Giving Tuesday!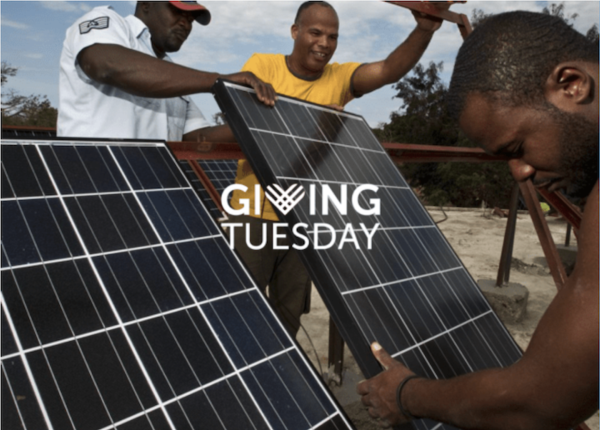 Nov. 28 is the worldwide celebration of Giving Tuesday, and a perfect opportunity to strengthen Rotarians' environmental action by donating to ESRAG. Here's the link to give, with a variety of ways to put your donation to work. Thank you!

Also, many subscribers to this newsletter are not yet ESRAG members. Join us! The annual membership is only $30 for Rotarians and $15 for Rotaracters. Your donation sustains our vital webinars, project support, communications, and the online resources compiled by the growing network of Rotarians who are volunteering their expertise through ESRAG's Task Forces and Intiatives.
---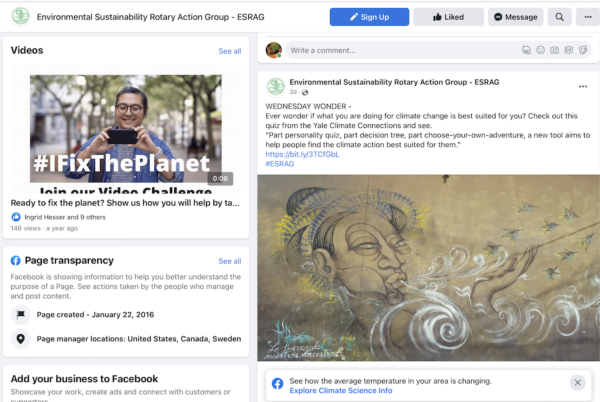 News about your project could be just what's needed to inspire other Rotarians to take action, and show them how to succeed. We also welcome updates on scientific, technical, economic, or cultural issues to help fellow Rotarians develop effective environmental solutions.

ESRAG's volunteers are ready to share your news in many formats, including this monthly newsletter and our social media accounts. Discover our social media by clicking on the icons at the top of this newsletter. Please follow ESRAG's social media, and comment on and share the posts!

If you have an event to publicize, please submit this Event Form with the information our website and marketing teams need to design and post quality event information that promotes ESRAG's vision and mission.
Fill out ESRAG's Social Media Form to help our social media team design posts reflecting the professionalism of the ESRAG organization. All submissions must first be approved. Event publicity forms have to be sent no more than 10 days before the event, and social media requests must be sent no later than 7 working days in advance – we can't guarantee that we can publicize anything with shorter notice.
The newsletter deadline is the 5th of each month. Send your stories or request an interview by filling out this newsletter form.
---
The Environmental Sustainability Rotary Action Group
operates in accordance with Rotary International policy, but is not an agency of, or controlled by,
Rotary International.
---